Darkscapes is a Free expansion pack for Sektor Synthesizer, containing +120 presets. A one of a kind expansion & experience for all Sektor Synthesizer enthusiasts – focusing on immersive soundscapes, pads, basslines and melodies. Audio landscapes from this world and beyond… Eeire Soundscapes, Industrial planes, Dark rituals & out of the ordinary presets.
A Full bank of 128 Presets – Featuring: 32 Leads, 40 Arps & Sequences, 23 Pads, 14 Chordhits & Stabs, 21 Basslines, 13 Keys.
Open Sektor, navigate to the Browser window. Locate the sektorExpansion file downloaded here. Then drag and drop it on to any existing expansion image. 
Sektor is developed by Initial Audio
Dark Cinematic Soundscapes
Darkscapes is packed with High Quality never heard Presets & Sounds from Sektor. With a focus on on Ambient Sounds, Pad Sounds, Experimental Soundscapes – But also exploring other areas.
Custom samples that fit the Darkscapes Theme – From Religious Chants, to Industrial Noises, Field Recordings, Sounds of Nature and more…
Most expansions for Sektor are directed towards Trap, Hiphop, EDM or Trance – Darkscapes takes a step in a whole different direction and another dimension. Darkscapes focuses on Ambient Sounds, Pad Sounds, Experimental Soundscapes, some highly relaxing, others highly disturbing – Exploring the basic and advanced features of Sektor Synthesizer.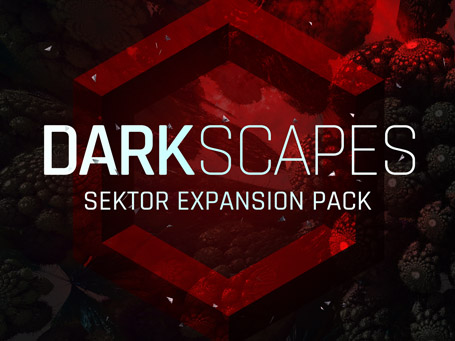 Generate unexplored, unheard sounds and realms, vast and never-ending soundscapes. This expansion pack is specially designed to all fans of Ambient, Industrial, IDM, Glitch, Chill, Techno & more. Darkscapes can also be a great ally for sound designers looking for original sounds to add their projects and arts, be it games, multimedia, music or cinema.