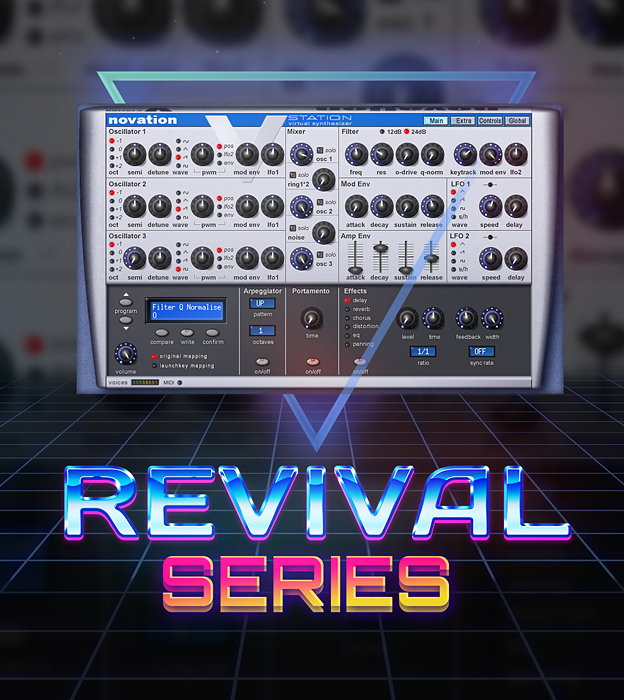 Free Presets for Novation VStation
A collection of 120 free presets for Novation VStation. Sounds2Inspire revisits the classic software synthesizer Novation VStation and adds a sound bank of freshly squeezed main leads, acid leads, plucks, poly leads, basslines and pads. 
Re-exploring Novation VStation's synthesis, effects, and all the bells and whistles… Revival Series one is created towards Electronic, Trance, Progressive, House, Electronica, for producers, composers, jammers & chillers. Still using Novation VStation these days? Or looking for an excuse to reinstall it? Go grab Revival Series, it's free.
127 Presets for Novation VStation:
.Main leads
.Acid leads
.Arps
.Mono Leads
.Poly Leads and Chord hits
.Pads
.Basslines
.Electronic
.Electronica
.Cinematic
.Techno
.Progressive
.House
.Trance
.EDM
.Bass
.Breakbeat
.Glitch Hop
.Chill
& More…
Both .midi (VStation original format) and .fxb (VST soundbank format) will be delivered.
It is possible to load these sounds into the hardware version, Novation KStation, for more information check the VStation User manual. We do not offer support for this option.
*Note that the .midi version does not contain preset names, if you are using VStation in a DAW environment we recommend you to use the .fxb format
Novation VStation presets
Revival Series, takes its focus on Novation VStation. Adding +120 new sounds, melodies, basslines, pads, acidleads and sequences.
From simple to more complex presets, exploring many of the features, synthesis and effects offered by Novation VStation.
Fans and producers of Trance, Progressive, House, Chill, Electronica… Will find some great sounds and melodies to add to they're collection.